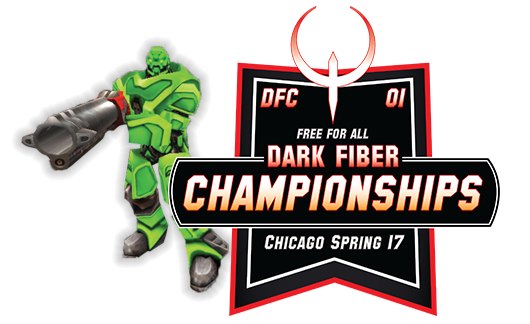 DFC 01 – FFA, Chicago IL
We are proud to announce that we will be holding our first tournament for Quake Live. It will be an FFA tournament, eight man pools, with the top four players moving on. More details to come, register for your spot today!
$100 CASH prize now available! Top four players will receive tournament cash!
Tournament will take place April 9th, 7pm sharp!
Maplist: will be top ten most played maps on the DF server
Rules: Groups of 8 will be randomly selected to compete in three (3) maps with the top four (4) players on each map earning 5, 4, 2 and 1 point. The top 4 out of 3 maps played move on to the next matches and so forth until there is one set of 3 maps to be played with all the top point earners competing to become champion! Each map will have a timelimit of 12 minutes, no frag limit, all the usual powerups will be turned on
Prizes: 1st place of $50, 2nd place of $25, 3rd place of $15, 4th place of $10 No aliasing is permitted. Players must use their most used, or most well known name in game Admins will be myself (yufli) and EduCatOR (teacher)- contact us for any questions, comments or suggestions!
Communication: All tournament related communication will take place via Discord. Click here to join our discord server!